A French Cappuccino 
Frenchmans Guy  x Water for Chocolat (Spotted Shawne Bull by Shawne Bug) 
2012 Buckskin Tobiano Mare 
aka "Paris"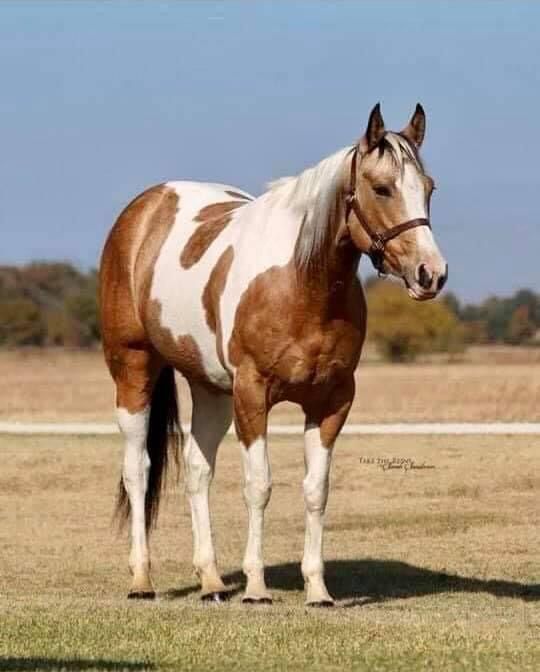 Paris is a proven and consistent 1D barrel horse and is currently with Beckie Yohe in PA.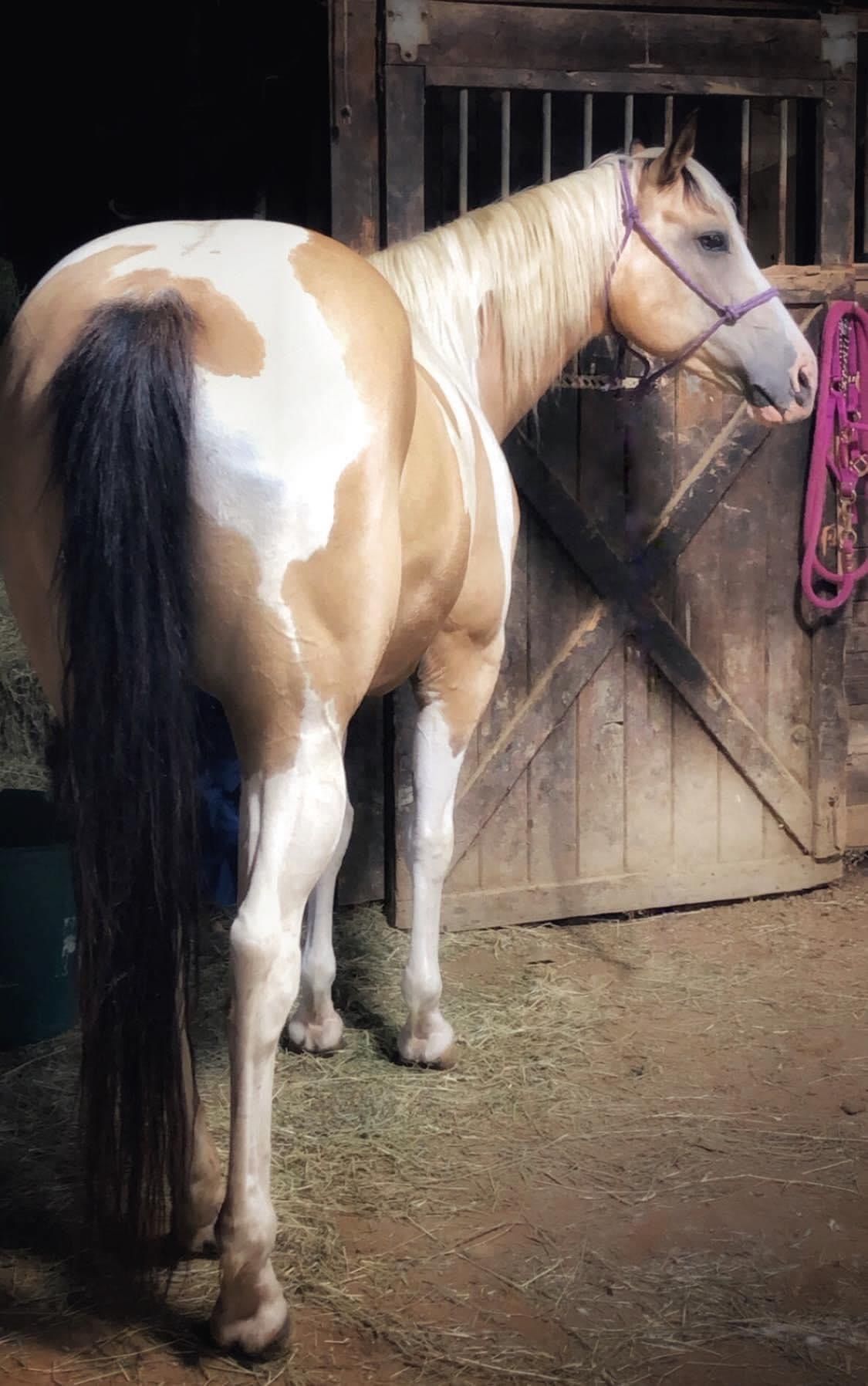 Sire: Frenchmans Guy
Frenchmans Guy – the most prolific son of Sun Frost.  As a Finals qualifier PRCA Badlands Circuit, South Dakota Rodeo Assn., Northwest Rodeo Cowboys Assn., Reserve Champion, Barrel Futurity & Derby Money Earner, he was proven barrel horse himself.  As a barrel sire with Equi-Stat progeny earnings of over $14 Million, he has remained on the top 5 for over a decade and is currently the #2 sire for All Time Sires based on progeny earnings.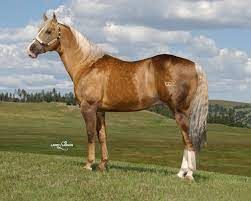 Dam: Water for Chocolat by Spotted Shawne Bull (Shawne Bug)
Paris' dam was a granddaughter of Shawne Bug SI 101 (1974). He was a Stakes winner, $277,023, Blue Ribbon Fut., etc. Sire of 493 ROM, 30 stakes winners, $4,835,997. Sire of the dams of 60stakes winners, including STRAWBERRY SILK SI 105 (champion 2-year-old, $1,266,264, All American Fut. [G1]), SHAWNES FAVORITE SI 106 (champion, $365,290, Champion of Champions [G1]),ONERAREBUG. Lifetime Earnings of $277,023. AQHA Race Money Earner and ROM. Speed Index of 101 (AAA+) Superior Race Horse Award Earner. Sire of AQHA Race Offspring with earnings in excess of $4,800,000 & Equi-Stat Barrel Racing Offpsring in excess of $400,000, including producers with get earnings of over $1,500,000. Sire of 190 AAA\AAAT runners, 384 winners, 358 two-year old ROM's, and the money earners of $4.4 million.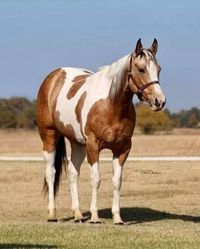 AQHA Race SI-101, AAAT, ROM Race, Superior Race - 29-17(2)-3(2)-6(3), $277,023. Won: 1976 Blue Ribbon Futurity, 1977 Rocky Mountain QH Derby 2nd: 1977 All American Derby, 1978 Go Man Go Hcp 3rd: 1977 Kansas Derby, 1977 Rainbow Derby, 1976 Los Alamitos Invitational Championship. SIRED: 26 SWs, 90+ ROMs, 190 AAAT runners, 384 winners, 358 2yo ROMs, and the money earners of $4.4 million